Chain of Flowers Share Their Favourite Record Sleeves.
Treading somewhere between Eagulls and the 'Skying' era of The Horrors, Cardiff's Chain of Flowers have delivered a melody driven post-punk record that we should all be taking note of. 'Never Ending Space' is out now via Alter and boasts bright riffs, neat production and lucidly poetic lyricism.
To dig a little deeper into the record and the current creative psyche of the band, we asked Chain of Flowers to share the story behind the album's artwork as well as share five of their favourite sleeves.
Hey Chain of Flowers, can you tell us about the artwork for 'Never Ending Space'?
Designing for Chain of Flowers records is always so daunting to me. I put extra pressure on myself because I guess it means more to me than other work I do. It's often a sushi belt of ideas, influences, colour palettes, themes etc until something just feels right.
This time around it fell into place when the LP title was settled. To me it just had to be a physical representation of the Never Ending Space – thus the key was born. It was initially intended as a smaller detail of a much larger idea, but it just looked so cool that I wanted to put the focus on it solely.  I worked with my friend Leon Evans, a brilliant 3D designer, to help bring the idea to life and he did a great job of executing the key.
The colours of the sleeve (which follow onto the back) do have a loose meaning to them, representing passing of time and the band moving on from a previous existence to now but in some sort of dream-state liquidity.
I don't have an art theory background so I'm not sure what the "correct" thinking is but I've always had a fondness for taking an ordinary, every day object and contextualising it in an iconic way. A key is something that everyone has in their pockets everyday, yet I've never seen it used like this before and I think that's cool.
– Daniel
Great! Thank you for sharing. Now could you tell us about five record sleeves that have influenced you in life, emotionally, or in creative direction?
DJ SCREW – 3 'N THE MORNIN' (Parts 1 & 2)
I've always found this sleeve so striking. There's so much depth, it's like it's own little world. So many details. I would love to see how this was made. The Pen & Pixels Graphic company who made it were known for the very distinct diamond encrusted gangsta rap imagery but they did something very different here. Something so nightmarish.
The hyperrealism and overall composition was a big influence on our new record cover that I worked on and a keen eye may even spot the odd direct nod. The 20 year anniversary issue uses a different colour sky background which scratches the nostalgic itch of seeing bootleg band and wrestling merchandise using totally wrong brand colours.
From the South to South Wales.
– Daniel
Slint – Spiderland
I would have heard this for the first time as a teenager, when it had already safely reached certified cult status. I think the artwork and title added just as much to the mystique as the strange, sparse music on the record. Always liked the fact the cover didn't have much info written on it, something we've tended to do ourselves for the most part.
There's something intimate and vast to the visual and audio. I can imagine the picture on the sleeve being used on a news bulletin, a press-clipping, or on a "missing" poster – the last sighting and photo taken on a holiday before tragedy struck.
It's not a record I listen to often nowadays. But sometimes when it's late, when the party's finished, and everyone has gone home, and a particular nostalgic mood sets in, I may put this on, turn out the lights, and lie down in bed. Waiting to ride out the rush of chemical indulgence, communing with its nightmarish Americana (and maybe my adolescence), conjuring up a psychic, Blakean landscape in which to lose myself as sleep sets in.
– Sami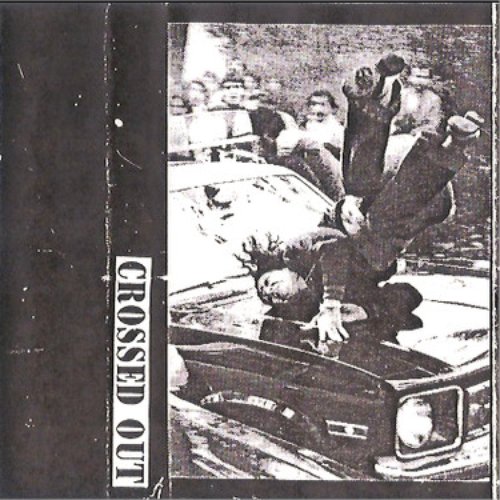 Crossed Out – Demo '91
Maybe not the most profound sleeve of its time or genre, and I guess pretty on the money concept wise, however this was the visual aid to what I would've described as the harshest tunes I'd ever heard at the time. This demo made me understand you can cut and paste, you can collage, you can pick an image that evokes something in you, an image can match a sound, you don't always need polished artwork, and that really…..you can do whatever the fuck you want.
– Rich
Manic Street Preachers – Generation Terrorists
I've always loved the coupling of the crucifix necklace and tattoo of the album's title, inscribed on the tightly framed naked torso of Richey, though the title wasn't tattooed on him IRL. The LP is full throttle, full of attitude but for me the artwork in particular highlights the tension between religious institution, societal norm and the vulnerability of angsty disillusioned youth, which like many, filled my earlier years, long before being aware of this LP's greatness.
By the time I was old enough to understand it, I'd encountered 'Generation Terrorists' and it instantly hit the spot. I was listening backwards from their third LP, 'The Holy Bible', which I quite quickly became obsessed with and lyrically, hits me in a very similar way. Both connected with me like no hardcore record (which was predominantly what I was listening to at the time) had prior and that at the time blew my mind; given the bands twisting-glammed-up big song charge on this. Prior to that, I thought the band to be the purest Ruck adjacent muck for the Saturday afternoon, shit flicking sheux masses of South Wales. Never been so happy to be proven so wrong.
'Stay Beautiful' is one of my favourite songs. That song and this cover were a big influence on the song 'Nail Me To Your Cross' from our first LP, which (least I hope) honours both. Richey and Nicky Wires' sloganised poeticism, use of iconography and the bands subversive attitude delivered in their own unique way have had a sizable impact on my approach to Chain of Flowers from early on.
"Clinging to your own sense of waste
All we love is lonely wreckage"
– Joshua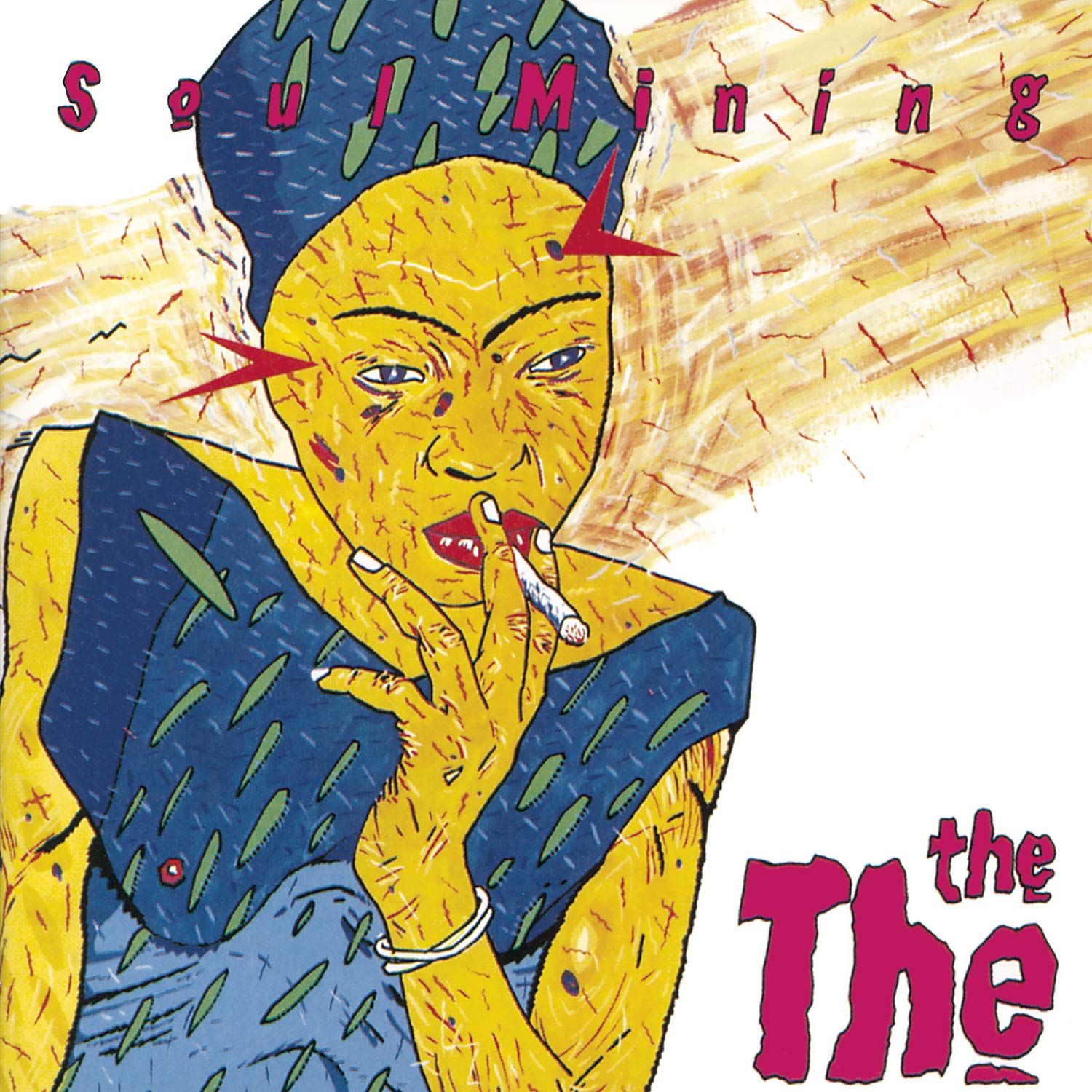 The The – Soul Mining
I've chosen The The's 'Soul Mining'; I love this record and the cover is just beautiful. It's one of those records you hold and just stare at for ages, transfixed in its vibrant, contrasting colours. It was painted by Matt Johnson's brother Andrew and for me really encapsulates the bright, unique and sometimes euphoric sounds on the album.
To me, the portrait is just really powerful. It makes you want to embody the subject of the artwork as you listen. The record and sleeve is a big dose of dopamine when you need it most. Whenever I hear the accordion at the start of 'This is the Day', I will always want to be sat in the sun, smoking a cigarette.
– Matt
Thank You
Chain of Flowers – Never Ending Space is out now via Alter. Listen/order your copy here.
The new issue of So Young is out now. You can purchase in print here or read the digital edition below.