Hotel Lux Share Their Favourite Record Sleeves.
Hotel Lux have been delivering the good stuff from London-via-Portsmouth for a few years now. The six-piece are finally gearing up to release their debut album, 'Hands Across the Creek', a record which shakes off the haunting direction of previous singles 'The Last Hangman' and 'Daddy' to adopt a melodic progression of the post-punk sound.
With the album on its way, it felt the perfect time to invite Hotel Lux to tell us all about the artwork of their debut record and pick some of their all time favourites too. Read on.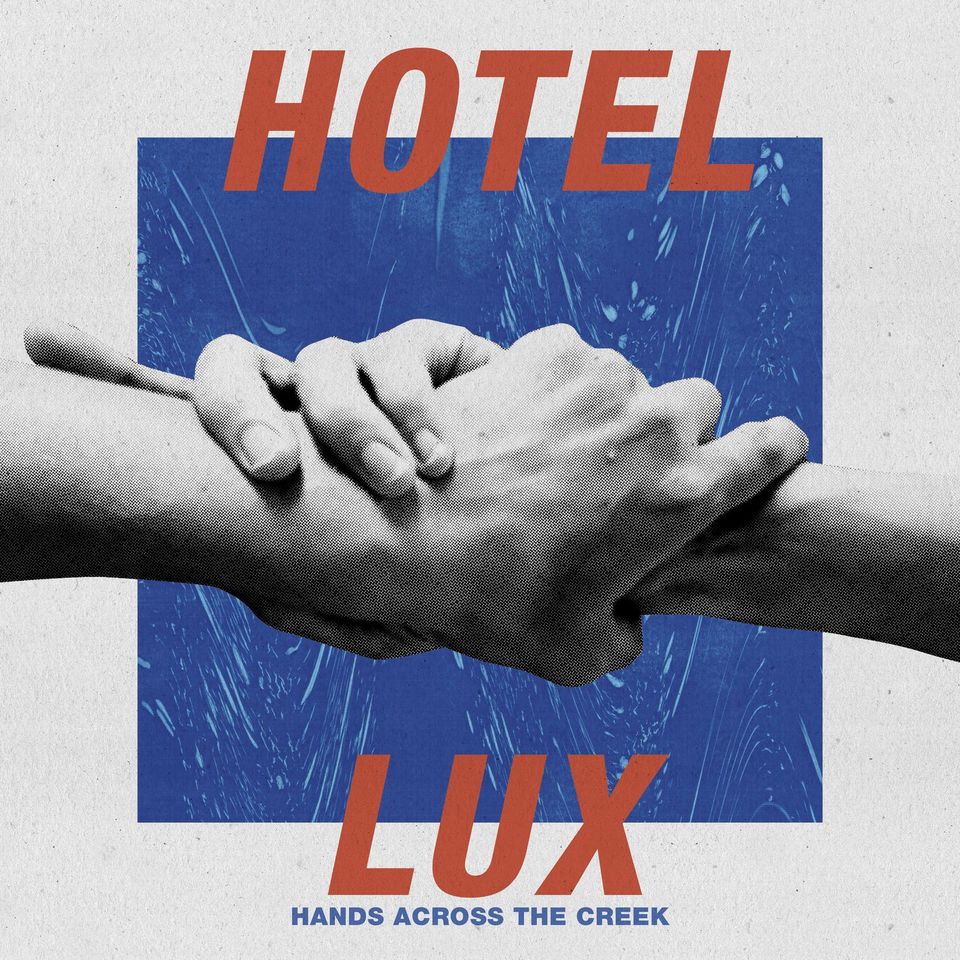 Hey Hotel Lux, Can you tell us a little bit about the artwork for 'Hands Across the Creek'?
The album sleeve, like the title itself, is based on a t-shirt design from many years ago. I'm from a town called Fareham, just outside Portsmouth. Supporters of Portsmouth Football Club from Fareham had a little saying to honour the link between Fareham and Portsmouth, 'Hands Across the Creek'. So I'm told, a t-shirt was printed depicting adjoining hands in the centre, 'Fareham – Portsmouth' above and 'Hands Across the Creek' below. As though it was a football crest. We essentially stole that for the album cover, with the blue, white and red mirroring the Pompey colours.
Nice! Thank you for sharing. Now could you tell us about five record sleeves that have influenced you in life, emotionally, or in creative direction?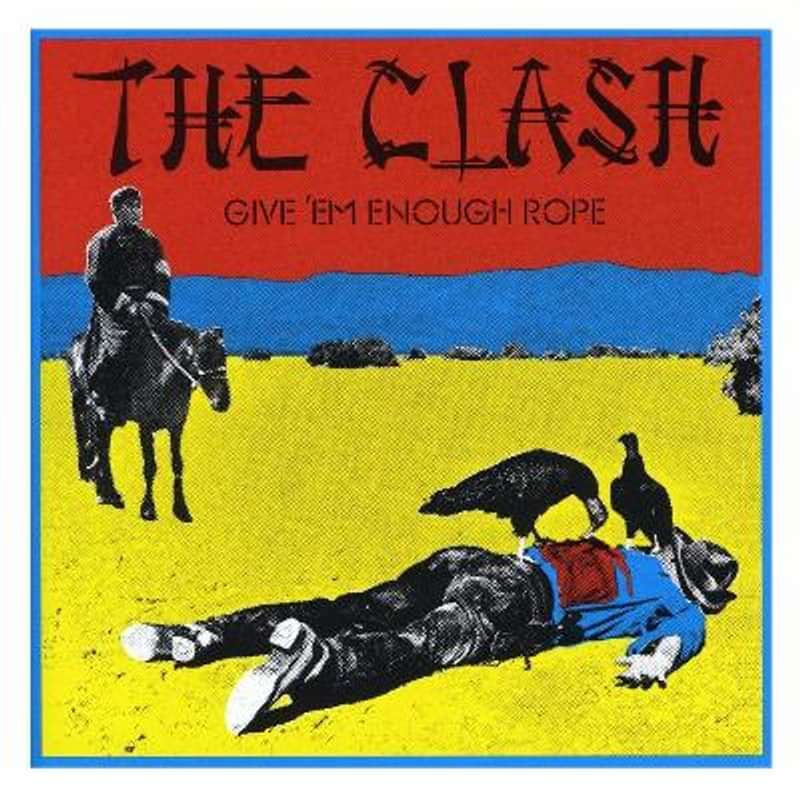 The Clash – Give 'Em Enough Rope
A classic this, an important part of my teenage years . Used to dot about with a pin badge with this cover on and thought I was the dogs bollocks. Designed by Gene Greif and based on a postcard titled "End of the Trail" depicting a dead cowboy. Beautiful colours, iconic font and aptly evocative. Everything you'd want from a classic album cover. Reckon the artwork is a large factor in this particular Clash album being my favourite of theirs. Good stuff. – Lewis
Kraftwerk- The Man Machine
This album was my introduction to Kraftwerk's music and it was entirely the artwork which intrigued me at first. Eye-catching colours, fonts and the weird looking figures on the front, this artwork is just one of many which represent Kraftwerk's strange and robotic world. The image of the band on the sleeve depicts a eerie, mannequin like group who fit to their own, self-defined role of "sound scientists". The artwork was inspired by Russian suprematism art which was seen as very futuristic for its time- something which is matched by Kraftwerk with their music on this record. – Craig
Tom Waits- Swordfishtrombones
The artwork for Tom Waits' 'Swordfishtrombones' is for me the perfect representation of the wonderful and strange music contained within the record. What at first glance looks like a standard photograph actually has an uncanny painting like quality to it; it reflects the bizarre and performative nature of his music, in which the listener is never quite sure of what's fact or fiction, real or fantasy. In equal parts Hollywood glamour, post-midnight cabaret and surreal dreamworld, it's 100% Tom Waits. An album cover that's just as intriguing and as cool as the music on the record itself. – Max
The Brian Jonestown Massacre – Strung Out in Heaven 
This album's artwork reminds me of how confused i was when i first heard the BJM. I couldn't work out if they were a new band or something from the 60s and the artwork gave me no more clues. Newcombe's DIY approach to artwork has seriously varied over the years but this one encapsulates the 60s revivalist vibe completely. Other psych bands i'd found around this time used the classic tropes which never resonated with me but this had guns and shit on it and looked like some spaghetti western spy movie poster. This discovery would completely change my view on psychedelic '60s' music and lead me to getting the worst stick and poke on the planet. – Cam
Sparks – Propaganda
Everything I love about Sparks. Camp, sexy tongue in… Designed and photographed by fashion's Monty Coles, the frantic impermanent feeling of this record is visualised perfectly through the use of colour (my favourite hue of blue) and movement on its cover. The credit for its success however cannot be diverted away from the Mael brothers themselves whose image is as big a part of the PACKAGE as the music itself, embodying its straightness, naughtiness, playfulness, theatre and raunch. Bound and gagged and bound and gagged and bound and gagged and bound and gagged and bound and gagged and bound and gagged… – Dillon
Hotel Lux – Hands Across the Creek is out Jan 27th via The State 51 Conspiracy. Pre Order here.
Issue Forty-One of So Young is out now and available to read in print here or as a digital magazine below.